PIER WEST
750 Quayside Drive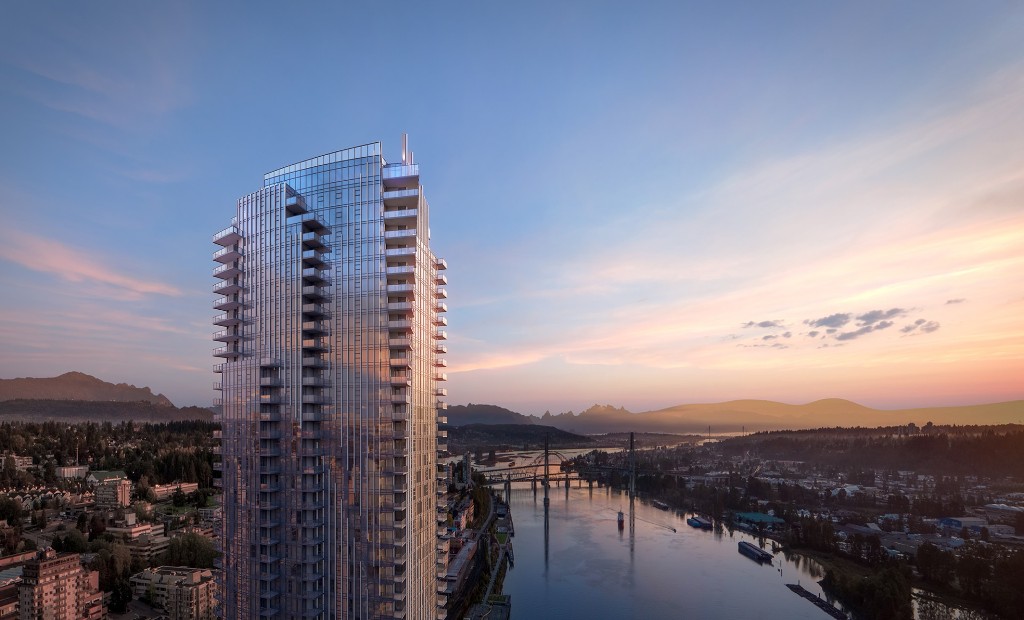 PIER WEST - by Bosa sits at New Westminster's waterfront, beside the Westminster Pier Park, Waterfront Esplanade, near Columbia St & Front St shops & restaurants.
Engaging, Modern Architecture That Reflects The Waterfront Setting
Pier West is the tallest waterfront residential property in the Lower Mainland, set within an 11+ acre park on New West's celebrated waterfront boardwalk, connecting the city's vibrant downtown just a block away. Reaching soaring heights of up to 53 storeys, this collection of homes is poised to be the most coveted address in the region.
DESIGN & DETAIL
Pier West is the latest achievement of a long and successful collaboration between Bosa and internationally renowned architect Hossein Amanat, taking contemporary residential architecture to new heights.
Inspired by the magnificent riverside locale, fin extensions on corner windows and balconies expand as the towers rise, creating wave-like forms that seem to flow up and down the building like moving water. At ground level, glass facades and dramatic V-shaped columns create interest and visual connectivity with the bustling New West waterfront just outside.
INSPIRED BY THE BEST PRIVATE CLUBS, THIS IS A NATURAL EXTENSION OF YOUR HOME
Each tower features an Owners' Club; a dramatic two-storey space with an exclusive amenities collection designed to elevate everyday living. Central to each space, the lounge is ideal for catching the big game on large-format screens, spending some quiet time by the fireside, or making new connections with your neighbours. You've got the perfect place to mix classic cocktails, coordinate a catered party and host friends for unforgettable all-day or evening happenings.
WATERFRONT IS THE ULTIMATE, IRREPLACEABLE LUXURY
Expansive outdoor lounges with unobstructed riverfront views are the crown jewel of the Owners' Club and are reserved for the exclusive use of residents and your guests. The dramatic double-height lounge opens seamlessly to outdoor space designed to maximize views and create intimate areas to relax in private or to meet and socialize with friends old and new. In this unforgettable setting, hovering over the waterfront, you can take in the happenings of the boardwalk, watch the sunset over the river, or cozy up beside the fire at day's end.
PRIVATE DINING
Adjacent to the lounge is an elegantly designed private dining room, with a full kitchen featuring top-of-the-line, chef-inspired Wolf gourmet appliances. The kitchen connects to a private deck with views of the river and a custom built-in bbq. Whether you want to grill the perfect filet mignon or hire a celebrity chef to create an exclusive meal for 20, everything is here to create unforgettable memories. This is the epitome of luxurious entertaining.
FITNESS FACILITY
The high-performance fitness facility will get your heart rate up, while a serene yoga and stretching space will help you find your zen. Fitness spaces are complemented by a co-ed steam room and sauna, and fully-equipped change rooms. Exceptional water views add inspiration at any time of day or night.
View Life Differently From Up Here
Homes at Pier West provide incredible panoramic views of the Lower Mainland, whatever the direction. From the river to the ocean, the surrounding skylines and spectacular North Shore Mountains. At any height, every direction offers something special to take in.
Kitchens By Inform Interiors
Innovative and stylish, kitchens are carefully planned for functionality and beauty, with space-saving wall ovens and integrated speed ovens*, substantial solid-slab waterfall countertops, seamless backsplashes, and spacious cabinetry with soft-close doors and drawers. Custom storage options tuck what you don't want to see away. And a premium Bosch appliance package offers efficiency and elegance in equal measure.
Spa Inspired Bathrooms
Bathrooms are contemporary and well-composed. Oversized porcelain tile walls add drama and elegance. Vanities by Inform with expansive storage and spacious counters ensure soothing spaces where everything has a home.
Outdoor Living Spaces Inspire Day Or Night
Spacious balconies extend the living space of every home into the open air – perfect for enjoying your morning coffee or evening refreshment. Balcony footprints have been maximized, increasing in size as the building rises, to create functional extensions of indoor living. Combined with innovative window design details, the result is an aesthetically pleasing and ever-changing view of the building's exterior.
Discover The Neighbourhood
New Westminster is in the midst of a remarkable cultural, creative and commercial renaissance—and Pier West is perfectly positioned to help you enjoy it. As the flagship residence in the ongoing evolution of the Royal City waterfront, and at the heart of one of the Lower Mainland's most celebrated public realms, Pier West offers a uniquely rich lifestyle opportunity.
Waterfront Esplanade
Life around the water is energized and activated, with a range of shopping, dining and recreation options. Pier West is the missing piece in the puzzle. It's a unifying development that connects and completes the outstanding waterfront amenities that are already here.
WESTMINISTER PIER PARK
A contemporary anchor to the riverfront, Pier West is the final piece that will now complete the 2.5 km of boardwalk connecting New Westminster to the energy and excitement of the waterfront.
RIVER MARKET
A destination modern food hall experience. Freebird, Longtail, Wild Rice, Great Wall Tea Co. and Donald's Market are just a sample of the specialty dining and services you'll discover here.
FRONT STREET MEWS
Set against the backdrop of heritage buildings, the newly vitalized area adorned with vibrant greenery and chic street furniture is both inviting and intimate
OLD CROW COFFEE CO.
A local favourite with espresso and bites done right. This place will make your day better.
Downtown Energy
With a thriving downtown scene, New West 
enjoys a combination of urban energy and small-town community that few cities can match.
Well-preserved brick buildings mingle with modern architectural gems including the Anvil Centre, a performance, conference and events space just blocks from Pier West. 
New restaurants and coffee shops share sidewalk space with cool boutiques, creating a walkable, welcoming downtown.
COLUMBIA STREET
This historic street is seeing a monumental movement. Premium services, restaurants, breweries, salons, and coffee – as well as the Anvil Centre – are transitioning this neighbourhood into the must-visit location in the Lower Mainland.
FARMERS MARKET
Connect year-round with growers and makers for farm-fresh produce, plants, gourmet prepared foods, works from local artists and artisans, and the latest food truck offerings.
STEEL & OAK BREWERY
Equally passionate about craft beer and New West, Steel and Oak proudly continues the city's brewing tradition. With 11 beers on tap, charcuterie and plenty of space to linger, this may become your new favourite spot.
EL SANTO
Acclaimed contemporary Mexican cuisine and part of the new evolution in food happening in the city. El Santo was recently awarded best Latin restaurant in Vancouver by Vancouver Magazine.
You'Re Already There
New Westminster is centrally located with outstanding connectivity by public transit to key destinations throughout the Lower Mainland. Simply hop on the SkyTrain and you're there in no time.
METROTOWN SHOPPING CENTRE: 10 MINS
One of the largest malls in Canada, with over 450 shops and services.
SIMON FRASER UNIVERSITY, SURREY CAMPUS: 11 MINS
A vibrant community hub and thriving campus for one of the country's most respected post-secondary institutions.
SURREY CITY CENTRE LIBRARY: 11 MINS
An architectural landmark and vital community resource. Designed by celebrated B.C.architect 
Bing Thom.
ROGERS ARENA AND BC PLACE: 25 MINS
Catch a Canucks, Lions or Whitecaps game, plus countless shows and concerts year-round.
GRANVILLE ENTERTAINMENT DISTRICT: 26 MINS
The heart of the region's nightlife and cultural scene, with theatres, restaurants, bars and lounges and more.
DOWNTOWN VANCOUVER SHOPS & RESTAURANTS: 26 MINS
Spend the afternoon shopping and the evening dining at the hottest restaurants downtown. SkyTrain takes you there and back with ease.
Current Listings
---